Civil Litigation You Can't Afford To Go To Court Without Us!®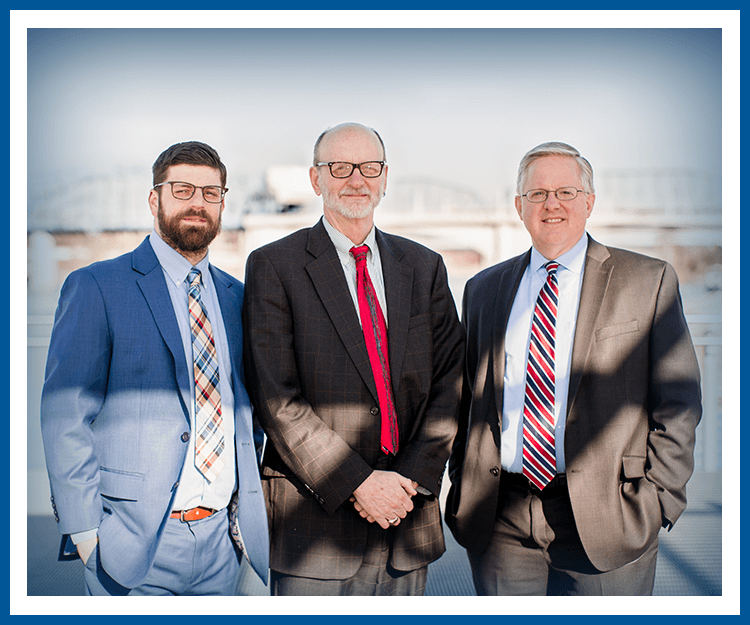 Chattanooga Civil Litigation Attorneys
Transparent, efficient, and dependable trial counsel from your trusted civil litigation team in Chattanooga.
WHY CHOOSE CAVETT, ABBOTT & WEISS?
Attorneys With More Than 60 Years Of Combined Experience
Various Practice Areas
Regular Client Communication
Transparency From Start To Finish
Reliability (No Silly Guarantees Or Gimmicks)
HIRE A CHATTANOOGA CIVIL LITIGATION ATTORNEY
AN OVERVIEW OF OUR CIVIL LITIGATION PRACTICE AREAS
At the law firm of Cavett, Abbott & Weiss, our civil litigation attorneys represent clients in all areas of real property and construction litigation, including disputes arising after the sale of property, mechanics' and materialmen's liens, bond claims, mortgages, leases, zoning, title insurance defense and claims work, quiet title actions, disputes over the sale of land, partition lawsuits, boundary line disputes, mediation, and arbitration.
We also represent both institutional and individual clients involved in commercial disputes. Our law office handles partnership dissolutions, contract disputes, financing and funding disputes, insurance coverage issues, and general commercial matters.
Learn more about our civil litigation practice areas below.
"Very good at communicating with my group and making sure we understood everything."

- L.M.

"I highly recommend not looking anywhere else...Cavett, Abbot & Weiss is the best team for the job."

- Dan C.

"Best Lawyers in Chattanooga. Personable and really care about their clients. Thank you so much Josh Weiss!"

- Malik N.

"I had a fantastic experience with this firm. They quickly helped me resolve a real estate matter."

- Laura M.
Practice Areas Helping You When You Need It Most
YOUR TRUSTED CHATTANOOGA LAW FIRM
Civil Litigation Practice Areas
CONSTRUCTION DISPUTES
It's no secret that construction disputes can become costly in a hurry. Without dependable legal representation, your business could be turned upside down. But with so many civil litigation firms in Chattanooga, how do you know which one to hire for your case?
This is where the law firm of Cavett, Abbott & Weiss comes into play. Our attorneys regularly represent contractors, owners, developers, engineers, architects, insurance companies, sellers and purchasers. We have extensive technical knowledge in litigating and arbitrating construction defects, nonpayment, delays, manpower, scope of work and contracting issues as well as incomparable dispute resolution skills.
Our litigation team is ready to take on your risk-prone case. So if you're in need of someone who will work tirelessly to represent your interest in a construction dispute, get in touch with Cavett, Abbott & Weiss now!
REAL ESTATE LITIGATION
What comes to mind when you think about real estate litigation? Frankly, this type of civil litigation can involve office buildings, apartment buildings, retail centers, and specialty properties. Keep in mind that real estate disputes often surface from competing title claims, use of the property, and even historical uses on adjoining properties. Real estate disputes also arise, sometimes unexpectedly, in the course of negotiating and closing complex residential, commercial and industrial purchase and sale agreements.
.
As you might imagine, real estate litigation can get pretty contentious. That's why we advise against trying to get through this situation alone. At the law office of Cavett, Abbott & Weiss, we have attorneys who have decades of experience dealing with the intricacies of real estate law. From boundary line disputes and easement cases to restrictive covenant cases and delinquent tax sales, our lawyers will be at your side every step of the way.
COMMERCIAL LITIGATION CONTRACT DISPUTES
Over time, commercial contract disputes can lead to a negative impact on your company. So what's the right way to go about resolving such disputes? At Cavett, Abbott & Weiss, our lawyers can assist with disputes over a contract's terms, missed deadlines, lost profits, breaches, business torts, and more.
Rather than assume that a lawsuit is your only option, speak with one of our attorneys about early mediation or arbitration as an alternative to traditional litigation. We often find that evaluating and implementing creative early dispute resolution can save our clients time and money.
Don't let a contract dispute get the best of you and your company. Instead, team with an attorney you can trust at Cavett, Abbott & Weiss.
Contact Us! Don't Hesitate
YOU CAN'T AFFORD TO GO TO COURT WITHOUT US!®