Drinking and driving is a recipe for disaster. Sure, society tends to associate a DUI with jail time and strained family relationships. But what about its impact on one's job? Keep reading as we explain how a DUI can basically destroy your career.
Schedule your consultation today
Suspended license – Even if you hire the best DUI defense attorney in Chattanooga, there's still a good chance your license will be suspended. Then comes the hassle of figuring out alternative transportation. Trust us when we say that taking the bus and relying on friends/family gets old quickly. Maybe you're thinking, "I'll just use a rideshare service and it'll be fine." While Lyft and Uber may be the most convenient option, it'll cost a pretty penny in the long run. Does your job require you to drive? Then you're out of luck.
Insurance loss – Here's one many people don't think about. Let's say that you drive for a living and manage to keep your license. You're in the clear, right? Not exactly. A good amount of insurance companies won't offer coverage to those with DUIs on their record. So if you were previously covered by company insurance, your employer may lose coverage if they keep you employed. In this instance, your employer has no other choice than to fire you.
Issues with job applications – Let's say that you were fired as a direct result of your DUI. Naturally, you immediately start searching for current job openings. Something to keep in mind, though, is that most states allow employers to ask about arrests and convictions on applications. Not to mention, your arrest will appear in public records and on your driver's license records.
Missed work – Maybe you lucked out with your DUI. It could be that public transportation is a few blocks from your house. On top of that, your employer never found out about the DUI. Even in this situation, you will likely have to miss work frequently for court appearances and mandatory alcohol treatment. Say goodbye to upcoming family vacations and precious sick days.
Job loss – Is your profession in the medical field? Then be prepared to disclose your arrest to the licensing agency. Believe it or not, a DUI could impact your license. All that work and money you put toward getting your license goes down the drain should you lose it.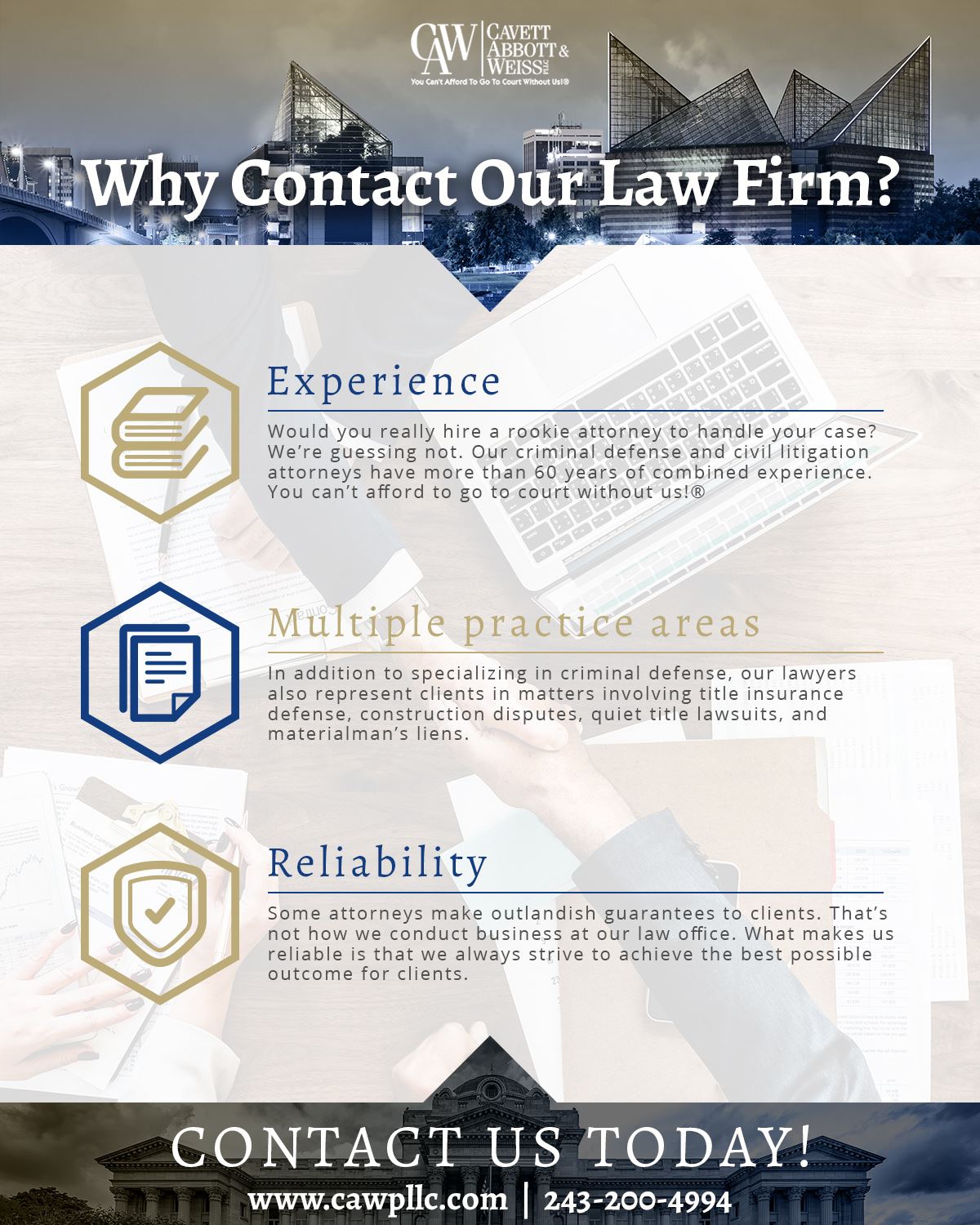 RELIABLE DUI HELP
Our Chattanooga DUI lawyers never condone drinking and driving. That said, we understand that one bad mistake can do major damage to a career. This is where our DUI defense lawyers come into play. At the law office of Cavett, Abbott & Weiss, we have more than 60 years of combined experience.
The last thing you want to do is sit back and "hope for the best" following a DUI arrest. Rest assured that our DUI lawyers take a proactive approach with each of our clients. When you come to our law firm, there's no judging or making you feel like less than a human being. Whatever the case, our attorneys treat you with the utmost respect.
Don't let DUI charges ruin your career. Contact us today for the DUI help you deserve.